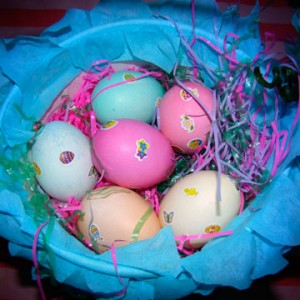 Today, the little one and I decided to make some lovely Easter Eggs.  So we went to our local grocery store and bought some fun supplies to make our Easter Eggs. Well, Sophia was quite excited about Easter, so she really wanted to start making her eggs really early.  We started to boil our eggs and after it was done, we set them aside to cool down.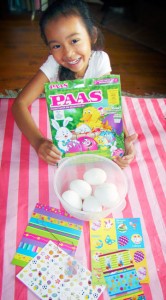 We opened our PAAS package, and it sure had some fun supplies inside which included stickers, 6 dyed tablets and other decorative items.  Yep, it all screamed fun, fun, fun.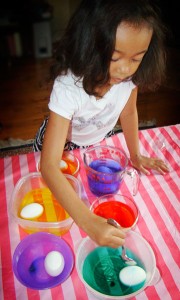 I pretty much followed the directions from the package and took 6 bowls and filled them with water and vinegar. Sophia placed a dye tablet in each bowl and watched them as they made a fuzzy sound while dissolving slowly. Then we put an egg in each bowl, and let it sit and soak for a while.
After the eggs were all nice and colorful, Sophia and I started to place stickers on them.  They had other items but, Sophia wanted the stickers, LOL. Now, it was time to place the eggs in our basket and we were done. Voila! Wasn't that easy?
Now, go and make some wonderful colorful Easter Eggs and give that special someone an Easter Basket. How fun would that be. Enjoy!
Sincerely,