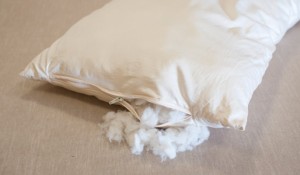 I personally love sleeping comfortably. If you get a good nights sleep the next day will be even better. So when I came across this site called Obasan, I was quite curious as to what the site had to offer. They are the Sleep Experts who have been passionate about sleep for over twenty five years. They use have custmoized mattresses made of organic materials that are free of harsh chemicals. I saw several wonderful products, but I had know more about their pillows.
I had the opportunity to review the Saguenay 1.0 Organic Wool Pillow and it was well packaged and made. It felt extremely soft and I really love how it felt when I put my head on it. I tried it out the same night and it felt so comfortable underneath my head.
Here are some of the wonderful features of the Saguenay 1.0 Organic Wool Pillow:
Filled with shredded organic wool
Removable cover with two different surfaces for warm or cold nights (silky organic cotton and organic cotton jersey)
Zipper on both sides for easy removal
Fully adjustable for individual needs
Chemical free, won't hold dust mites
Thermo regulating  properties  of wool help control overheating
No off-gassing
I love the removable cover that has two surfaces for warm and cold nights. You can design which cover you want to choose whether is cold or warm. I really like the fact that the pillow has two zippers on both sides, because it makes it so easy to remove the pillow. Now I know why the pillow felt so great when I slept on it, because it is filled with shredded organic wool.  It is like sleeping on a cloud

.
Obasan has other products such as mattresses, pillows with different sizes, comforters & protectors, kids mattresses and even pet beds all made from organic materials
Now you can visit Obasan and enjoy all their wonderful products.  You can connect with them via facebook and twitter as well.
Sincerely,
My opinions are my honest, and thoughtful views and were not influenced by any source. I was not compensated monetarily for this review. Thank you to the PR Agency for providing a complimentary sample for the review.