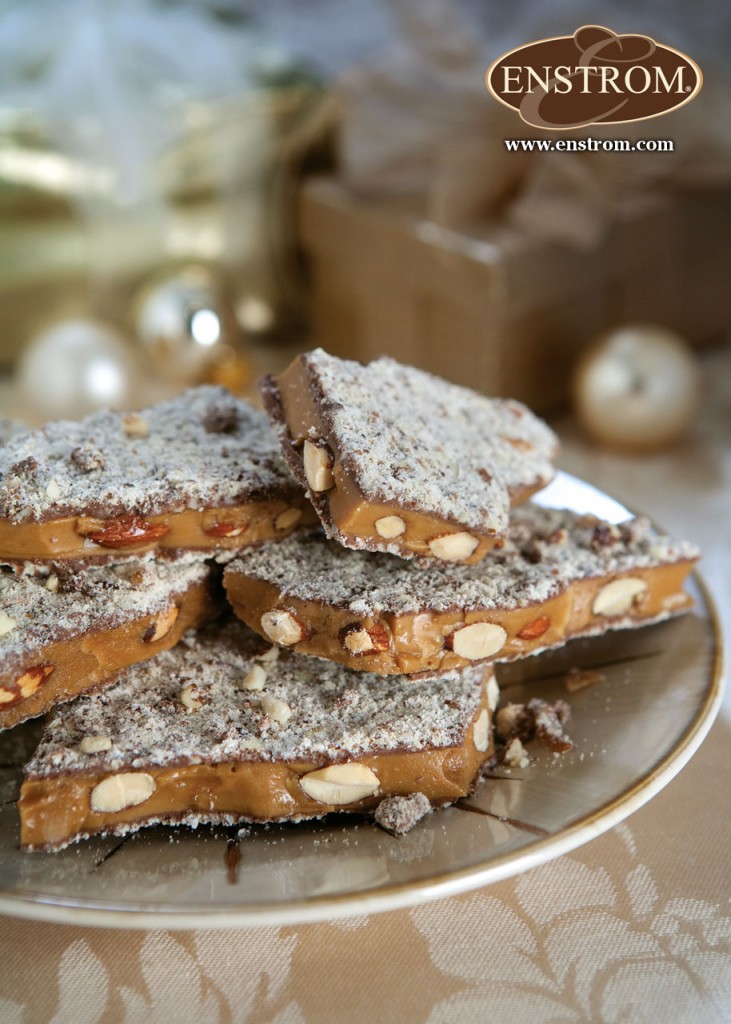 Just recently I had the opportunity to sink my teeth in some scrumptious Chocolate Almond Toffee by Enstrom.  These are so addictive, that it will be hard for you to put it down. It's crunchy, sweet, all-natural, and very delicious. My husband likes it so much he crushes it all over some vanilla ice cream, but I enjoy it just how it comes out the box.
Enstrom: Our all-natural, World Famous Almond Toffee is crafted from a perfect blend…fresh California almonds, sweet cream butter and pure cane sugar, covered in a generous layer of rich chocolate and sprinkled with crushed almonds.
About Enstorm: Three generations ago, Chet Enstrom perfected the art of blending the finest natural ingredients to create batches of almond toffee as gifts for family and friends. By 1960, his almond toffee had begun to develop a reputation and, at the urging of family and friends, Chet and his wife, Vernie, founded Enstrom Candies in Grand Junction, Colorado. Over the years, the business has grown and been passed down from generation to generation. The family still follows the same original recipe for the almond toffee that Chet perfected almost 80 years ago.
To get the best taste and freshness and flavors of the delicious almond toffee you can store them in the refrigerator or freezer. It can be stored in a freezer for 4 to 6 months or refrigerated for 2 to 3 weeks. Isn't that fantastic!  The  box size is 7-1/2″ x 5″ x 1-1/2″ with 2 layers of almond toffee, and it can serve up to 10 people. Enstrom offers products and various flavors of almond toffee, Almond Toffee Popcorn, Gourmet Chocolate, Sugar-free toffee, gift ideas for your loved ones and friends and corporate gifts as well. There are plenty of delicious choices for everyone to select from.
Win: One lucky winner will have a chance to win a Almond Toffee box.  Yay!
Mandatory Entry:
Let us know what other product from Enstrom you would love to have.
Extra Entries:(leave a separate comment for each)
Subscribe to my blog via RSS
Subscribe to my blog via email or Reader (You MUST confirm)
Follow me via Google Friend Connect
Follow me on Twitter and Facebook-2 entries
Follow Enstrom on Facebook
Follow me on Networked Blogs
Tweet giveaway, leave link to your tweet, include@ShowMeMama- Twice daily 
Add my button to your blog entry and let me know where it is.
Leave a comment on a non-giveaway post.
Blog about the giveaway with a link back to this post- 3 entries
Rules: Open to US
Include email address with first entry
Winner will be chosen by random
Giveaways ends December 18th at 11:59 P.M. CST
Winner will be emailed and must responds within 48 hours or another winner will be selected.
Sincerely,

My opinions are my honest, and thoughtful views and were not influenced by any source. I was not compensated monetarily for this giveaway. Thank you to the PR Agency for providing a complimentary sample for the review and sponsoring a giveaway.
Congratulations to the winner:
3-Sally
An email has been sent to the winner.
Thank you to all who participated in the giveaway!