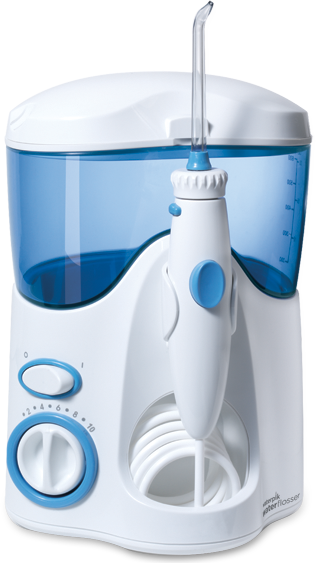 I'll admit I am not much of a flosser, but I do like taking care of my teeth. So if you haven't heard about the Waterpik Ultra Water Flosser then you should read what I am about to tell you. The Waterpik Ultra Water Flosser  WP 100  is easy to use and can be a great alternative product for those that do not like to floss. Not only is this product clinically proven but  is great for removing plaque biofilm and reducing gum bleeding and inflammation.
Waterpik Ultra Water Flosser includes the following:
6 unique tips
Advanced pressure control system with 10 settings
5 to 90 psi
Reservoir capacity of 90 seconds+
Pause button on handle
Can be used with water or your favorite mouthwash
Smaller and quieter than previous models
Covered reservoir with built-in tip storage
Three-year warranty
I had the opportunity to review the Waterpik Ultra Water Flosser, and I must say it is quite easy to use and leaves you feeling very fresh at the end. I easily selected which tip I wanted to use and I attached it to the handle. I then filled the container/resevoir with warm water from the bathroom then attached it tightly to the base of the Waterpik Ultra Water Flosser.  I then turned the knob to a low setting.  I immediately started to  water floss my teeth from the back to the front and it felt amazing. Water was literally flowing through my entire mouth. I pushed the pause button while I was washing out the remaining water in my mouth and spit it all out.  After I was done, I turned off the unit and threw away the rest of the water in the container. It was very easy to use and I use it every day. I truly love flossing my teeth this way, it is very easy and leaves your mouth really refreshed and clean.
They also have a Waterpik Water Flosser for kids which will definitely benefit those little ones greatly.
Now, go and visit Waterpik and you can also connect with them via facebook and twitter page.
Sincerely

My opinions are my honest, and thoughtful views and were not influenced by any source. I was not compensated monetarily for this review. Thank you to the PR Agency for providing a complimentary sample for the review.