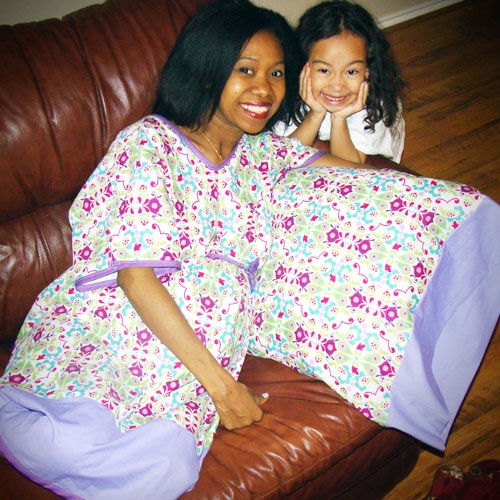 Well I am currently 34 weeks pregnant and I am quite excited, but at the same time tired. I was in the hospital for a couple of days, and while in there I had plenty of time to browse the internet. I saw some wonderful delivery gowns and wanted to wear one myself, because the hospital gown I received was falling apart. I definitely can't be seen in that. Since my visit, I have been placed on complete bed rest due to early labor symptoms.
I thought, since I love to sew, why not make one for myself. I eventually found an inexpensive fabric and a hospital gown pattern and made my own creation. I really wanted a matching pillowcase, so I made one as well. The delivery gown and the matching pillowcase cost me total of $12.00. Yes, isn't that nice!
I started on the pillowcase and delivery gown prior to being placed on bed rest, but I still had to finish up the delivery gown. So my dear sweet husband found a way to make it all work. Since, I couldn't get out of bed, he placed my sewing machine next to the night table and I began sewing while laying on my side. LOL.
I am glad that I made my gown and pillowcase, because having to stay in the hospital and wearing their ripped hospital gown with no ribbon in the back to cover your behind, can be quite embarrasing while walking the halls of the hospital. It's not a pleasant look at all.
Take a look at my own inexpensive stylish Delivery Gown and Matching Pillowcase, and tell me what you think. I will take a picture on the day of the delivery as well, so you can see it.  But for now, enjoy it!
Sincerely,