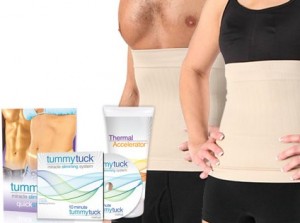 As all of you may know I was pregnant 7 months ago. If you ever were pregnant then you definitely know that your tummy can stretch a lot. You all know how far mine was stretched based on my pregnancy post several months ago. Now, I came across this product called the Tummy Tuck Slimming System.  I was looking for a product that can get my tummy back in to shape, believe me I am not looking for a miracle but I am looking for something to wear that will help my tummy to go back to its natural position.
So after receiving the Tummy Tuck Slimming System I decided to try it out.   The Tummy Tuck Slimming System includes the following items:
The revolutionary Tummy Tuck Belt:
A full 30 day supply of Thermal Accelerator:
The Tummy Tuck instructional video:
"You Choose How To Use It" guide:

All you have to do is commit to at least 10 minutes a day.
1.       Apply the Thermal Accelerator cream to your belly
2.       Then put the Tummy Tuck Belt on and do two minutes of abdominal exercises (use in the instructional video)
Simply follow the 10 Minute Method twice per day. After the 10 minutes, you can take off the belt.  In my case I did not take it off, I wore it almost the entire day and it basically worked as a shaper for me under my clothes. My belly has slimmed down incredibly and have gotten many, "I can't believe you just had a baby", comments. I totally loved that.
Visit their website to see more information regarding the Tummy Tuck Slimming System.
Sincerely,

My opinions are my honest, and thoughtful views and were not influenced by any source. I was not compensated monetarily for this review. Thank you to the PR Agency for providing a complimentary sample for the review.