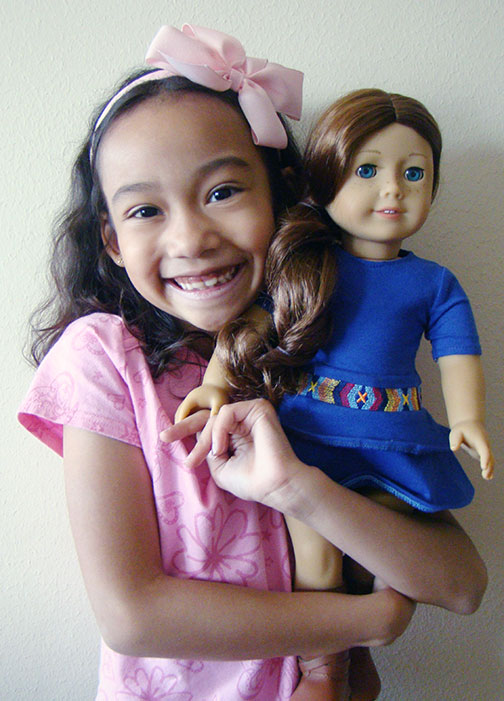 I bet you might know at least one girl or several, that are just infatuated by these adorable 
American Girl
dolls. I know in my house, my daughter absolutely loves her American Girl doll. She literally takes her everywhere. So I would like to introduce to you all the lovely 2013 American Girl of The Year: Saige Copeland from Albuquerque, New Mexico.
Saige adores painting in her adorable studio, and likes to ride her horse Picasso. My daughter Sophia can pretty much relate to Saige since she loves to paint, draw and is a very creative little artist. Sophia has been admiring Saige from a distant for several days now, and couldn't wait to finally see her in person. When Saige finally arrived in our home she definitely stood out. Her freckles are as cute as a button. She has bright blue eyes, and her outfit is contemporary and fashionable but still represents the American Southwest theme. Saige comes with pieced ear studs that look absolutely fabulous on her.

Her hair is glowing so beautifully and comes in a lovely twisted braid that lays so elegant over her shoulders. Her dress is well made and I love the colorful waistband. Her boots are tall and can easily be worn with jeans or other pants. Saige also has a beautiful turquoise ring that is simply glamorous. Just as a precaution, when your little one steps out with Saige, make sure to keep an eye on the ring or just leave it at home to keep safe, because it tends to slip off.
Sophia totally loves Saige, and like any American Girl doll there is story behind the girl. Saige's adventures are written out in the book, Saige, by Jessie Haas and illustrated by Sarah Davis. Here is a brief description about the book: "When Saige learns that her school will be cutting music and art lessons at school use gets disappointed. Her grandma helps her to organize a "save the arts" fundraiser and parade to benefit the school. Saige jumps on board. However, Grandma injures herself and is unable to ride the horse in the parade.  Now it is up to Saige to find a solution. Can she ride Picasso in the parade and make her grandma proud? Can Saige still raise enough money to protect the arts at school? This is a great book to read with your child and it teaches them how to make a difference in the world and to fight for a good cause.

Another book that I think every little girl should read is the Express Yourself companion activity book by Emma MacLaren Henke and illustrated by Charlie Alder.  It is a spiral bound book with a total of 64 pages. Here is little bit about the book: "It reveals how art can help girls explore their feelings. It has cool questions, colorful quizzes, and quick art projects to guide girls through their emotions. With each fun activity, girls explore how they do something, rather than how well they do it. This book doesn't teach girls how to create "perfect" art—it teaches them how to use art as a way to discover something new about themselves and the world around them."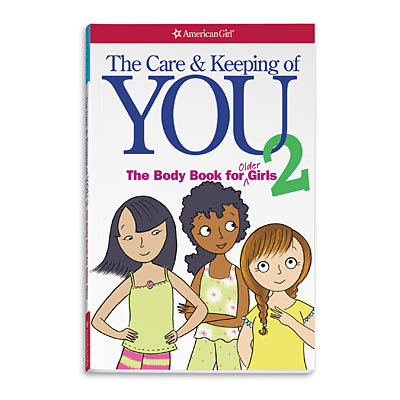 Then we have  The Care & Keeping of You 2: The Body Book for Older Girls. What I like about this book is that it will teach your girl some basic tips on simple ways of taking care of their growing bodies. It will make it so much easier for girls to discuss difficult topics with their parents such as the signs of pimples, dealing with the first time you have your period, eating healthy food, and more. Having a daughter of my own I know this would definitely be beneficial for me once she reaches that stage.  I know most of you that have girls would really love this as well. If you have  younger girls, they have the The Care & Keeping of You 1, you might want to look into that too. These two books give girls tips on basic care and hygiene, while helping to build their self esteem. It also creates conversations between them and their mom/caregiver/guardian.
WIN: now here is a sweet giveaway for you all.  One Show Me Mama reader will win the following books " Saige" and Express Yourself companion activity book.  Great right.
Mandatory Entry:
Visit American Girl website tell me  your favorite American Girl Doll.

Extra Entries:(leave a separate comment for each)
Subscribe to my blog via RSS
Subscribe to my blog via email or Reader (You MUST confirm)
Leave a comment on a non-giveaway post-2 entries
Follow me on Twitter and Facebook-2 entries
Follow American Girl on Facebook
Follow me on Networked Blogs
Tweet giveaway, leave link to your tweet, include@ShowMeMama- Twice daily every 2hr
Add my button to your blog entry and let me know where it is.
Blog about the giveaway with a link back to this post- 3 entries
Rules: Open to US
Include email address with first entry
Winner will be chosen by random
Giveaways ends March 5th at 11:59 P.M. CST
Winners will be emailed and must responds within 48 hours or another winner will be selected
Sincerely,

My opinions are my honest, and thoughtful views and were not influenced by any source. I was not compensated monetarily for this review. Thank you to PR Agency for providing a complimentary sample for the review and sponsoring a giveaway.                                                                      Congratulations to the winner:
45- Pamela Gammon
An email has been sent to the winner.
Thank you to all who participated in the giveaway!