I am back with another post of my Before and After projects. I hope you enjoy them as much as I do.  It is quite fun just to see your hard work change right before your eyes, and turn into such a gorgeous piece of furniture. First of of all, my daughter Sophia has quite a bit of clothes and if you have a girl I know you must go through the same situation as I do. There is never enough room for clothes. Even I have this problem LOL.
The current dresser Sophia had was too small for her, plus she had it since she was a baby. Now that she is bigger, she needs a larger dresser to keep her clothes neatly in place. So both my husband and I went looking for a dresser for a little girl. We went into several furniture stores; some were nice, some were a little too pricey, and some just basically did not have enough space.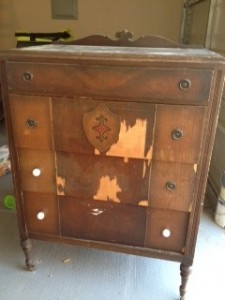 I decided to browse on Craigslist, and found a dresser that looked like it would work.  With a little paint I knew I could make it work, I said to my self. Sophia helped as well, and chose the colors so it will match with the rest of her bedroom furniture. The colors she selected were light pink and white.  I painted the pink first, and then painted the white on top.  Then I distressed it a little in order for the pink to come through the white. I changed the knobs and went to Hobby Lobby and bought some flower knobs that Sophia selected.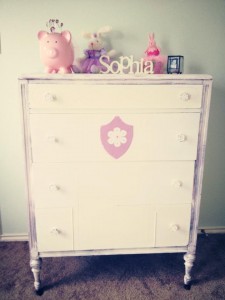 Here is the the final Shabby Chic dresser and I love that the small drawer on top where she can put her jewelry and other accessories.  Very girly indeed.  I hope you in enjoy this post.  Until next time.  🙂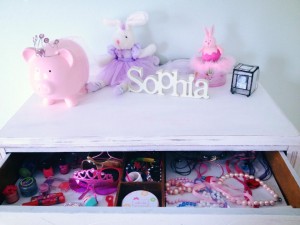 Sincerely,

My opinions are my honest, and thoughtful views and were not influenced by any source. I was not compensated monetarily and was not provided any items for this post. This was my own experience and project.