Has it ever happened to you where you find something you like, but when you see if for the first time it doesn't look very attractive.  Well, that is what happened to me several months ago.  I was looking for a chair and couldn't find the right chair that I liked.  So when I was browsing craigslist I saw a wingback chair that was really nice, but I was a little too late because someone had already purchased it.  At that moment I was a little sad. So my dear husband told me, don't worry you will find another one.  Believe it or not, the next day we were going to visit my Mother In Law and since we were a little early, we decided to drive around her neighborhood. Guess what I saw infront of one of the residents yard waiting to be picked up for trash?  A wingback chair! Yep, it was just staring right at me.  It did not look very pretty but I knew that it would look amazing after I reupholster it.  I tried to convince my husband, and he said I wanted you to get a chair but not "THAT CHAIR" I kept on thinking that is the chair I wanted. So we drove by several times to look at it again, but he couldn't see the beauty of this chair.
It was that time when we were supposed to meet up with my Mother In Law and we left. I mentioned the chair to her. After lunch, we ended up driving back there and looking at it again and decided to put the chair in her car.  Here is a  picture of the chair BEFORE.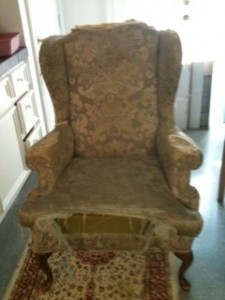 Some of you might agree with my husband when you see it the first time, but wait until you see it now (AFTER).   My mother in law took it and got it reupholstered and here is my
Absolutely beautiful Wingback.  The two-tone fabric is amazing and goes so well with the different color cording.  It is such a comfortable and relaxing chair that I have enjoyed several times already.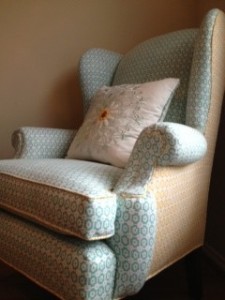 It is so funny whenever I am doing something my daughter says to me "Mama go and sit in your Wingback chair," it sure puts a big smile on my face.  Thank you to my Mother in Law for giving me such a wonderful Birthday Gift, which I truly will enjoy.
Sincerely,