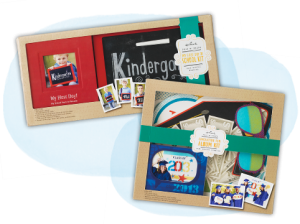 I can hardly believe that it is almost the end of Summer, and my sweet baby girl will be going back to school and entering 2nd grade.  Yes, they sure grow up really fast!  Since I love to take pictures of everything and anything, I have to remember to charge the camera battery the day before, so I can snap a few first day of school pictures. Those are the pictures I will treasure forever. I also need a place to store the photos in a great photo album.  I immediately thought of the brand new Hallmark Pics 'n' Props sets.
I personally love every product of Hallmark: from cards, toys, photo albums and more, it is always a pleasure to see what new products they will come up with next. And yes, they sure did it again. So you can't imagine how thrilled I was to mention to my readers, about these new Hallmark Pics 'n' Props sets.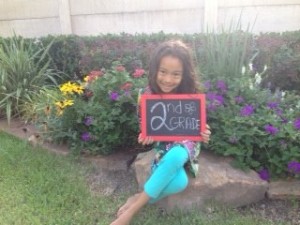 The beautiful crafted Back to School set that I received came with a chalkboard which has the most beautiful vibrant red color frame and chalk for immediate use of course.  It already came with lovely designed inserts from pre-school through 12th grade which were already prepared.  This can easily be inserted at the side of the chalkboard.  It also came with a photo album which carries 5×7 pictures, this will allow you to snap as many pictures on the first day of school and place them in this album  and it also includes journaling cards for any child to write down anything about first day of school, such as their teacher's name, friends they made and so on.  What a fun way to start off the school year.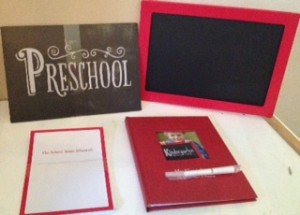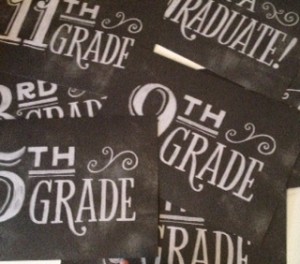 Now, who said you can use this chalkboard for more than one purpose.  The moment I saw the chalkboard I immediately wrote down what would be for dinner that night, "Spaghetti" and placed it in the kitchen. After dinner Sophia wrote " Yummy". I guess the spaghetti was delicious to her.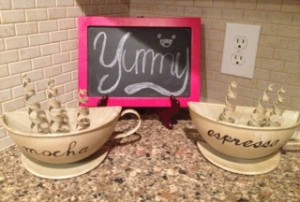 Hallmark is also introducing their new greeting cards to give an extra boost of encouragement to students throughout the school year.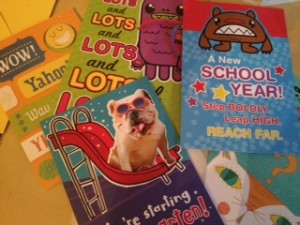 Here are a few of the greeting cards:
SO SO Happy™ Greetings: Hallmark's new line of SO SO Happy greetings help moms connect with their kids in a way they understand and appreciate. From Taco to Tribe, a variety of adorable characters inspire and celebrate positivity, acceptance and love — attributes especially important during the school year. Cards even include fun surprises for kids like shoelaces, key chains and more.  Check out one example below!
Kids Encouragement Greetings: Whether it's a new social situation, a test, first game of the year or any day of the week, sometimes kids need a confidence boost. These cards feature kid-appropriate topics to help encourage the special kiddos in your life.
Back-to-School Greetings: The newest back-to-school greetings feature furry friends to help you say "Go get 'em!" to the kiddos in your life.
I know that we all love e-cards, i know I love them too, but believe me once in a while you sure want to receive a nice, lovely Hallmark card in the mail.  It sure puts a huge smile on my face and I know it will be on yours too when you receive one of those cards.
Are you ready what I have in store for my wonderful readers………TICK, TOCK, TICK, TOCK here IT IS…….
IT IS  TIME FOR A GIVEAWAY
The wonderful people of Hallmark are generous to give one lucky Show Me Mama reader a               Making Memories & Encouraging Kids" gift pack this includes a
Pics 'n' Props School Days Activity Kit and a selection of the Hallmark greeting cards.
Mandatory Entry:
Let us know who you are trying to win this for and why?
Extra Entries:(leave a separate comment for each)
Subscribe to my YouTube Channel
Subscribe to my blog via RSS
Subscribe to my blog via email or Reader (You MUST confirm)
Follow me via Google Friend Connect
Follow me on Twitter and Facebook-2 entries
Follow Hallmark Facebook–
Follow me on Networked Blogs
Tweet giveaway, leave link to your tweet, include@ShowMeMama- Twice daily 
Add my button to your blog entry and let me know where it is.
Leave a comment on a non-giveaway post.
Blog about the giveaway with a link back to this post- 3 entries
Rules: Open to US
Include email address with first entry
Winner will be chosen by random
Giveaways ends August 22th  at 11:59 P.M. CST
Winner will be emailed and must responds within 48 hours or another winner will be selected.
Sincerely,

My opinions are my honest, and thoughtful views and were not influenced by any source. I was not compensated monetarily for this giveaway. Thank you to the PR Agency for providing a complimentary sample for the review and sponsoring a giveaway.
Congratulations to the winner:
21-Graceful Homemaker
An email has been sent to the winner.
Thank you to all who participated in the giveaway!