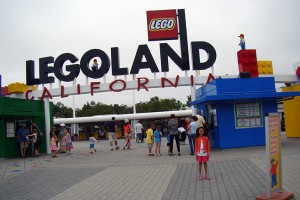 What I am about to tell you about Legoland will make you immediately see Lego's in a whole new way and you will quickly schedule your next vacation trip as soon as possible. So let's get started. My daughter is literally obsessed with LEGO's. She even had a LEGO birthday party where she received lots of LEGO minifigures and sets.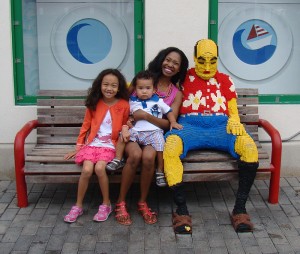 During our visit to San Diego, both my husband and I knew a visit to LEGOLAND California in Carlsbad was a definite must, and I personally knew that Sophia would be totally excited to go! The moment we told her we were going to Legoland I heard a big loud scream of enjoyment, followed by her running manically  back and forth in our hall way. I told her to go outside to get all those happy feelings out, and so she did.

On Thursday, July 24th, we woke up bright and early. We were all ready for a fun and adventurous trip to Legoland. As we drove slowly through the entrance we saw several beautiful created giant figurines made completely out Lego bricks welcoming us in.  We parked the car and chased after my daughter as she rushed to the entrance gate ready to explore.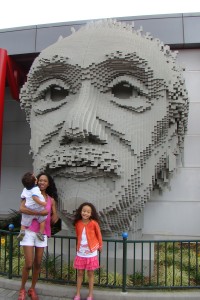 However, on the way up ahead we saw the beautiful Legoland Hotel. Sophia was so excited, that she kept on running faster dragging Daddy's hand to see the inside of the hotel. The colors of the hotel were so fun, vibrant and colorful. You definitely had a happy joyous feeling when you saw it from a distance and even better when you were closer. We took a moment to take a few pictures and it was time to head inside. Everything inside the Legoland Hotel was made out of Lego brinks. They have a spectacular interactive play area for children. You will also find in the atrium a stunning knight's castle which is guarded by a burping ogre.  There you will also find a 32-foot pirate shipwreck where your little ones can sure have some fun in.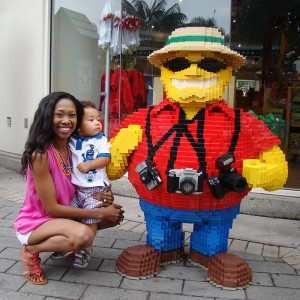 After all the fun of exploring the hotel, we finally made it to the LEGOLAND parks. There are several parks: LEGOLAND® California, SEA LIFE® Aquarium and LEGOLAND® Water Park. LEGOLAND California is the home to more than 60 rides, shows and attractions. Isn't that amazing! As you start to walk through the park there are some shops, the Minifigure Market and also the Big Shop.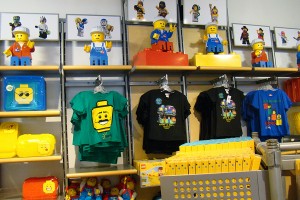 Sophia immediately ran to the Minifigure market because she is looking for Mr. Gold. However, in the store she saw where you could design your own Minifigures, so she immediately started making her own characters. All throughout the park there are beautifully created statues made entirely out of LEGO bricks! Yes really, it is true craftsmanship! We were shocked by how intricate the designs were and wondered how many bricks it took to build them.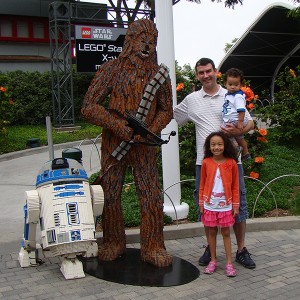 As we were making our way through the park, my hubby saw up ahead the Star Wars exhibit and of course he started walking faster to check it out. We made our way to see  a full size The LEGO® Star Wars™ X-wing Starfighter.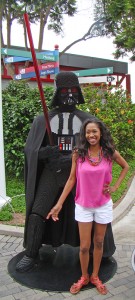 It was so beautiful and every part of  the X-wing Starfighter is made out of LEGO bricks.  It took a team of 32 Master Model Builders more than 17,000 hours to construct and five million LEGO bricks to build. The model weighs more than 45,000 pounds, stands 11 feet tall and 43 feet long, with a wingspan of 44 feet. With life size statues of Darth Vader, Chewbacca and R2D2, we were definitely excited, especially my husband.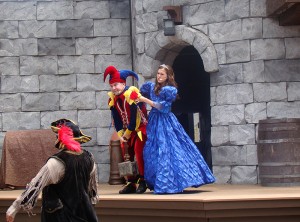 Next, it was off to see the new movie LEGO – Legends of Chima 4D Movie Experience. Here the whole family goes on an interactive trip into the World of Chima, where powerful tribes of animal warriors fight over the precious energy source CHI. Enter a wild 4D chase through Chima with the young animals and you will become entwined in a battle for CHI between Laval the Lion Prince and Cragger the Crocodile Prince! It was real fun and had some great surprises.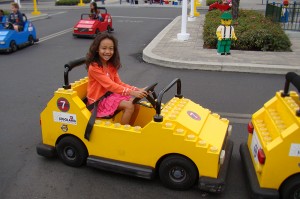 Then we visited the Volvo Driving school for kids who would love to drive. Believe me, Sophia was so happy to try it out. She had so much fun that she wanted to do it again and again. Kids can even get their own license.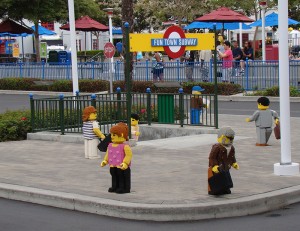 Dino Island is another fun place where the youngsters can truly have a fun time.  You start off by getting on the amazing rider the "Coastersaurus " which climbs, curves and dips in and around a prehistoric jungle of animated and life-size LEGO® brick dinosaurs. It will make your little one scream out loud, and even some adults  too ;).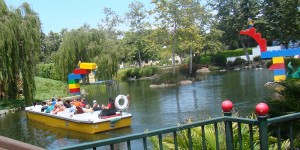 Dig those Dinos is another fun area where children can dig for what they call "skeletal remains" of dinosaurs which were buried in over 30 cubic yards of  sand. Doesn't that sound like so much fun. Adventurer's Club, was a really nice place to stroll through and view the the inhabitants of the Amazon rain forest, ancient Egypt and the Arctic – all made of LEGO® bricks.  We took so many pictures of all the cool LEGO models our cameras were losing their charge.:)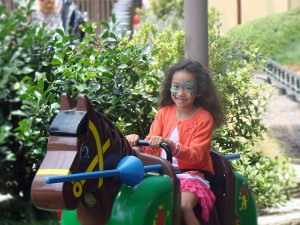 Castle Hill-Hideaways was also a exciting place for the little ones to have fun and let loose.  Right next to the Knights' Table Restaurant and the multi-level play area where everyone can jump, run, climb the ropes and ladders.  The Royal Joust was one of Sophia's favorite rides.  Sophia was having a blast riding her very own LEGO horse through an enchanted forest, full of  jousting LEGO knights.
Then, Sophia and I boarded onto the Cargo Ace and flew up 6 feet into to air.  It was a fun, thrilling experience for the both of us.  However, little William on the other hand was just a little nervous when he saw Mommy and Sophia flying way up high.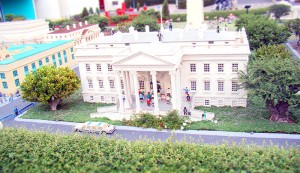 We took a nice stroll through Miniland USA.  It is the heart of LEGOLAND® California Resort which includes reproductions of seven areas of the United States, all constructed with 20 million LEGO bricks that can be seen from many places in the park.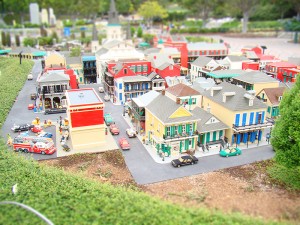 You will be able to see everything from Las Vegas, New England Harbor, New Orleans, New York, San Francisco, Southern California, Washington D.C. and more! Every section was beautifully designed, very detailed and made completely out of LEGO bricks.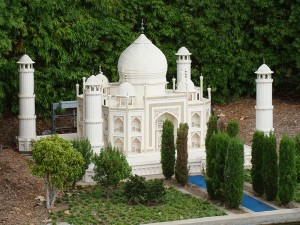 All of our mouths were wide open, full of amazement as to what all these LEGO bricks can turn into.  As always, I took a few snap shots for you to see but, it is really not the same as when you see it in person.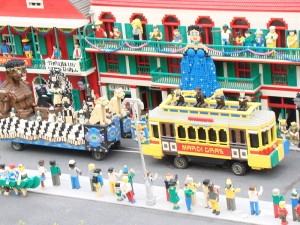 There are lots more exciting activities at the other parks such as LEGOLAND® Water Park and Aquarium, SEA LIFE.  However, the kids were getting a little tired so we did not have a chance to visit those two parks. But hey, that gives us another reason to visit another time right! Sophia is already asking to go back.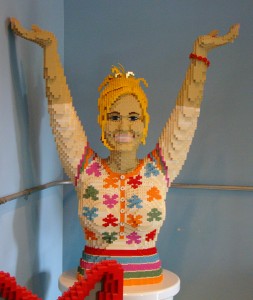 I shared with you some of the high points of our LEGOLAND experience. We had many, because there is so much to see and to enjoy.  We had a truly memorable and great time.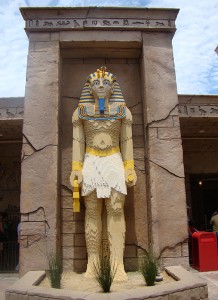 My overall experience of LEGOLAND California is that it was a fun and exciting place for everyone.  Their rides and activities are well managed, that even have building zones for kids as they wait in lines.  All of the plants, animals, cars, incredible buildings, instruments and even people that were created out of LEGO bricks are incredible works of art.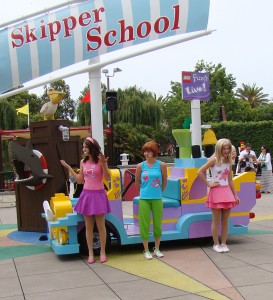 I would definitely recommend LEGOLAND California as one of my most favorite family friendly trips so far!
Until next time!

My opinions are my honest, and thoughtful views and were not influenced by any source. I was not compensated monetarily for this giveaway. Thank you to LEGOLAND for providing a complimentary tickets for the review.