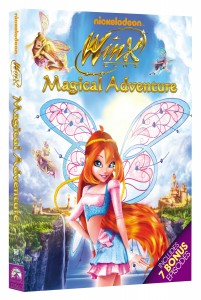 My daughter loves watching Winx Club on TV, and now that it comes on DVD she loves it even more because she can re-watch the episode whenever she wants.  Here is a little bit more about the DVD.
Nickelodeon's popular Winx Club is back with an all-new movie in Winx Club: Magical Adventure. Bloom is living life as a princess of Domino but doesn't understand why Sky can't escort her to the Princess Ball. Meanwhile, the Ancestral Witches and the Trix are joining evil forces! Plus, enjoy seven bonus episodes overflowing with adventure from the fifth season of the hit series. This two-disc set is filled with over 3½ hours of magic!
Disc One
Magical Adventure
Bloom discovers what it's like to live as a princess of Domino. Her joy is multiplied when Sky asks her to attend a ball with him! However, Bloom's happiness is short lived when Sky is forbidden by his own father to escort her. Meanwhile, the evil Ancestral Witches who had once destroyed Domino join forces with the Trix to erase all positive magic from the Magic Dimension. To reverse the effects of the Witches' reign of darkness, the Winx and Specialists must travel to the cursed city of Avram and battle their foes.
Disc Two
The Spill
Aisha's evil cousin Tritannus is sent to the prison of Andros where he meets the Trix.
The Rise of Tritannus
Tritannus absorbs toxic pollution from an oil spill and morphs into a monster. He and the Trix escape the prison and begin their quest to rule the magic dimension.
Return to Alfea
To defeat Tritannus, the Winx must achieve the power of Sirenix but they'll need to find the Sirenix Book hidden in the Secret Library of Alfea.
The Sirenix Book
When Tritannus learns of the Winx' mission to achieve Sirenix, he seeks to obtain it too.
The Lilo
In a race against the Trix, the Winx search Gardenia for a magical plant that will bloom for the first time in centuries and send magic all over Gardenia.
The Power of Harmonix
To gain Sirenix, the Winx must prove their self-confidence, empathy and courage.
The Shimmering Shells
The Winx obtain the gem of self-confidence. Meanwhile, the Trix and Tritannus' mutants attack Gardenia.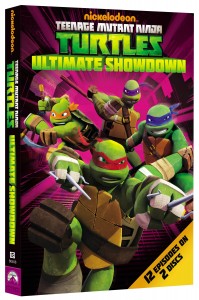 Did I tell you Teenage Mutant Ninja Turtles is also one of her favorites. Mine too. She loves the theme song and sings that all the time. Even though she loves all the turtles, her favorite for now is Raphael. So, when she saw the new Teenage Mutant Ninja Turtles: Ultimate Showdown, DVD and LEGO comic book inside she went bonkers. Here is a little more about the DVD.
Prepare for nonstop ninja action as Nickelodeon's hit series returns with their third DVD, Teenage Mutant Ninja Turtles: Ultimate Showdown.  The Turtles face off against new enemies and old in this all-new two-disc set featuring the final twelve episodes of the first season!  Don't miss the Rat King, Cockroach, Baxter Stockman and more – all leading up to the ultimate showdown against the Kraang and the Shredder himself in a 2-part finale you won't want to miss!  And for a limited time only, get an exclusive FREE LEGO comic book inside the DVD. Teenage Mutant Ninja Turtles: Ultimate Showdown is available on DVD and is out now for the suggested retail price of $19.99.
The series stars Jason Biggs (American Pie) as "Leonardo," Sean Astin (Lord of the Rings) as "Raphael," Rob Paulsen (Planet Sheen) as "Donatello" and Greg Cipes (Teen Titans) as "Michelangelo." Additional cast members rounding out this iconic hit franchise include Mae Whitman (Parenthood) as "April O'Neil," Hoon Lee (Royal Pains) as "Master Splinter" and Kevin Michael Richardson (Penguins of Madagascar) as "Shredder."
Teenage Mutant Ninja Turtles: Ultimate Showdown Episode: Disc One
I, Monster
The Turtles must face off against a new enemy, The Rat King, who threatens not only to take control of the city, but Splinter's mind as well.
The Alien Agenda
The Turtles get their first taste of high school when April's school project draws Kraang attention.
The Pulverizer
The Turtles meet their first fanboy when a teenage wannabe hero decides to fight crime and dress up as "The Pulverizer."
TCRI
While breaking into the hostile environment of TCRI headquarters, the Turtles discover the true intent of the Kraang and resolve to stop the alien invasion once and for all.
Cockroach Terminator
As the Turtles try to foil a Kraang invasion plot, they are hunted by a giant, indestructible cockroach.
Baxter's Gambit
Fed up with being humiliated by Fishface and Dogpound and defeated by the Turtles, Baxter Stockman seeks revenge by luring both parties into a deadly labyrinth.
Disc Two:
Enemy of My Enemy
After witnessing the Kraang in action, Karai realizes the seriousness of the alien threat and approaches the Turtles to propose an alliance.
Karai's Vendetta
While the Turtles are infiltrating an undersea Kraang base, the Foot Clan attempts to capture April, forcing her to fend for herself in a battle of wits against Karai.
The Pulverizer Returns!
When Shredder schemes to create a fearsome army of mutants, the Turtles have no choice but to rely on the help of the newest recruit to the Foot Clan: The Pulverizer!
Parasitica
After Leonardo, Raphael, and Donatello fall under the control of a parasitic Wasp, Michelangelo must fight his brothers to save them.
Operation: Break Out
Donatello breaks into a secret Kraang detention center in order to rescue Kirby O'Neil.  But when he discovers they are trapped inside with a deadly mutant prisoner, he realizes that breaking in was the easy part.
Showdown – Part 1 & Part 2
As the Turtles make a desperate assault on TCRI to shut down an alien portal, they find themselves engaging in the most difficult battle yet.
Win: 1 lucky reader will win a copy of the Winx Club: Magical Adventure DVD
and 1 lucky reader will win a copy of  Teenage Mutant Ninja Turtles: Ultimate Showdown DVD.
Mandatory Entry:
Tell me your little ones favorite character from  Winx Club or Teenage Mutant Ninja Turtles DVD

Extra Entries:(leave a separate comment for each)
Subscribe to my blog via RSS
Subscribe to my blog via email or Reader (You MUST confirm)
Subscribe to my YouTube Channel
Subscribe to my Google plus
Follow me on Twitter and Facebook-2 entries
Follow Nickelodeon on Twitter and Facebook– 2 entries
Follow me on Networked Blogs
Tweet giveaway, leave link to your tweet, include@ShowMeMama- Twice daily every 2hr
Add my button to your blog entry and let me know where it is.
Leave a comment on a non-giveaway post-2 entries
Blog about the giveaway with a link back to this post- 3 entries
Rules: Open to US
Include email address with first entry
Winner will be chosen by random
Giveaways ends October 10th at 11:59 P.M. CST
Winners will be emailed and must responds within 48 hours or another winner will be selected
Sincerely,

My opinions are my honest, and thoughtful views and were not influenced by any source. I was not compensated monetarily for this review. Thank you to Nickelodeon/PR Agency for providing a complimentary sample for the review.
Congratulations to the winners
The winner of the Winx Club: Magical Adventure DVD
9-Rebecca Parsons
The winner of the Teenage Mutant Ninja Turtles: Ultimate Showdown DVD
36-Kristen Coronado
An email has been sent to the winners.
Thank you to all who participated in the giveaway!