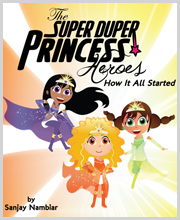 Each day I encourage my daughter to read for at least 20 minutes a day. I believe that by reading everyday your child's reading level will go up before you know it.  Since I know my daughter loves princesses and at the same time superheroes, this book- The Super Duper Princess Heroes: How It All Started" would be the perfect match for her.
Here is a little bit about The Super Duper Princess Heroes: How It All Started. It is a children's picture book that turns the princess paradigm upside down, and in the process creates an exciting, empowering, and breakthrough adventure story for young girls everywhere. The book is about three friends—Kinney, Oceana, and Sammie—who stumble upon magical tiaras that transform them into Super Duper Princess Heroes with new powers that will help them save princes as well as the world. In a marketplace flooded with princess role models that are all about getting married and looking pretty, "The Super Duper Princess Heroes: How It All Started" spotlights intelligence, teamwork, and responsibility while maintaining a context of charm and adventure.
The book is also a winner of several awards:
Winner of Multiple Awards!
Mom's Choice Awards Silver Medal
Gelett Burgess Children's Book Award
Family Choice Award
What I like about this book is that it was different from all the usual princess books. As we see with most princesses who are usually wearing pretty dresses and wearing a crown, sparkling accessories and of course their unmistakable beauty.  However this book shows a different type of princess, someone who is courageous, smart and self determined.  The book shows children how teamwork is very important and how the princesses use their power wisely.  The minute my daughter started to read the book she was captivated by the illustrations, and the story gave her great inspiration.  After she was finished reading, she ran outside and said she was a superhero with incredible super powers.  I truly enjoyed her performance and she had fun pretending to be a superhero.
I definitely would recommend The Super Duper Princess Heroes for a Holiday Gift or any gift you like.  Visit their website to find out more about the book.
Happy Holidays!
Sincerely,

My opinions are my honest, and thoughtful views and were not influenced by any source. I was not compensated monetarily for this review. Thank you to PR Agency for providing a complimentary sample for the review.