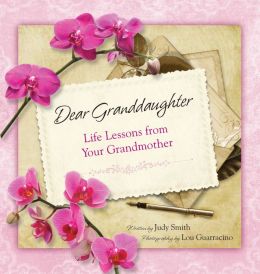 The book called Dear Granddaughter: Life Lessons From Your Grandmother by Judy Smith who is also a grandmother of four shares her wonderful insight and understanding with all grandparents from all over the world.  I love this book because I remember my grandmother always giving me tips and advice on how to dress as a lady, how to speak in public and to adults, and how to behave in appropriate way. At the same time she tells me in order for me to learn and to grow up I will occasionally make a few mistakes, which is alright, but she will be there to help me through it and support me no matter what.
The book makes you really realize how meaningful and special grandmothers really are, and that they sure "come in all forms" and "every grandmother is full of valuable wisdom" she says.  That's why I believe it is important to listen to you grandmother carefully even though at that moment you don't feel like it, just open your mind and listen, it will really mean something to you in the end. My grandmother is not with us anymore, but her valuable words are always in my mind. Whenever I need some guidance I try to recall what she told me in the earlier years to help me along the way.
You can find the Dear Granddaughter: Life Lessons from Your Grandmother at amazon as well and make this a holiday gift that someone can treasure for several years.
Happy Holidays!
Sincerely,

My opinions are my honest, and thoughtful views and were not influenced by any source. I was not compensated monetarily for this review. Thank you to PR representative for providing a complimentary sample for the review.