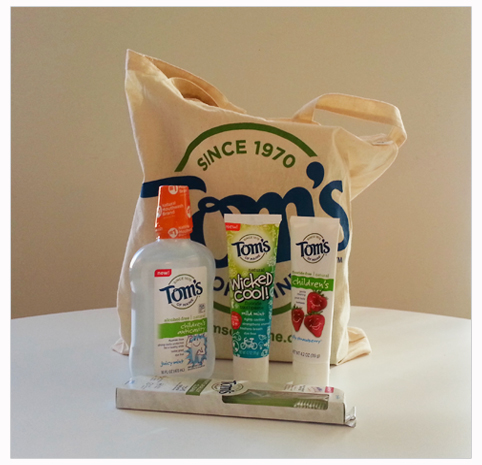 In case you did not know, February is National Children's Dental Health month, and  Tom's of Main is working together with Oral Health America (OHA) to provide oral care and preventions. I always encourage my family to brush their teeth twice a day so their teeth will be healthy and safe.  Oral Health Care is definitely a number one priority in our household and I will definitely encourage everyone as well.
Tom's of Maine Natural Kids Oral Care Kit will include:
Tom's of Maine Tote made from Recycled Tom's toothpaste tubes
Wicked Cool!™ Anticavity Toothpaste
Silly Strawberry Anticavity Toothpaste
Children's Anticavity Fluoride Rinse Juicy Mint
Naturally Clean Toothbrush – Soft
The Silly Strawberry Anticavity Toothpaste: is the first and only natural kid's toothpaste to receive the American Dental Association's Seal of Acceptance for its proven effectiveness.  It doesn't have artificial dyes or sweeteners, it get's all it's natural sweet flavor from real strawberry juice.  Oh, my that sounds just wonderful and has nice flavor as well.
Wicked Cool is new this year and is Tom's of Main's first ever natural toothpaste created for kids ages 8 and up. This Mild mint-flavored toothpaste fights cavities, strengthens enamel and freshens breath and is great for kids who want a more "grown up" toothpaste but find the adult mint versions "too spicy".  Plus, it's ADA-accepted, dye-free and never contains any artificial sweeteners or flavors.
 Children's Anticavity Fluoride Rinse Juicy Mint:  Kids love the taste of Tom's of Maine Juicy Mint Children's Anticavity Fluoride Rinse. Used regularly with fluoride toothpaste, rinsing provides additional cavity protection over brushing alone. It offers the same strong cavity protection as conventional brands without artificial colors, flavors or preservatives.   My daughter likes it a lot and it doesn't burn her which is a relief for me as a parent.  Tom's of Maine gives 10% of its profits back to organizations that support human and environmental goodness.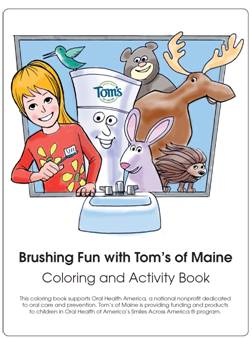 What I like about this program is that it is for a great cause.  Tom's of Maine is inviting children and their parents to get creative for an amazing cause where they will learn about natural oral care from a coloring book called "Brushing Fun".  Now, this is what is amazing about this cause. Each time you download a free coloring book, Tom's of Main will donate 10 tubes of Wicked Cool Natural Toothpaste to children in OHA's  Smiles Across America program.  I call that a fantastic cause.  Not only will the kids have fun coloring, but it makes me happy that this will help other children as well. I have a daughter who loves to color, draw, and paint just about anything. Since I downloaded this coloring and activity book for her, she has had so much fun with it.  She even took it to school to show it to her friends and teacher.  Parents can also share their child's beautiful creations of one of the coloring book pages on facebook or instagram using the following #Naturalsmiles.  There will of course be a weekly drawing, and five winners will receive Tom's of Maine natural oral care prize pack and a $100 Utrecht Art Store gift card to foster their child's creativity.  Isn't that awesome!
You can also connect with  Tom's Maine social media channels
www.facebook.com/TomsofMaine
www.twitter.com/TomsofMaine
http://instagram.com/toms_of_maine
You can also connect with Oral Health America social media channels www.facebook.com/OralHealthAmerica
https://twitter.com/Smile4Health
Giveaway
One lucky winner will receive a Tom's of Maine Natural Kids Oral Care Kit !
Mandatory Entry:
Who and why do you want to win the Tom's of Maine Natural Kids Oral Care Kit.

Extra Entries:(leave a separate comment for each)
Subscribe to my blog via RSS
Subscribe to my blog via email or Reader (You MUST confirm)
Subscribe to my YouTube Channel
Subscribe to my Google plus
Follow me on Twitter and Facebook-2 entries
Follow me on Networked Blogs
Tweet giveaway, leave link to your tweet, include@ShowMeMama- Twice daily every 2hr
Add my button to your blog entry and let me know where it is.
Leave a comment on a non-giveaway post-2 entries
Blog about the giveaway with a link back to this post- 3 entries
Rules: Open to US
Include email address with first entry
Winner will be chosen by random
Giveaways ends February 25th at 11:59 P.M. CST
Winners will be emailed and must responds within 48 hours or another winner will be selected
Sincerely,

My opinions are my honest, and thoughtful views and were not influenced by any source. I was not compensated monetarily for this review. Thank you to PR Agency for providing a complimentary sample for the review and giveaway.
Congratulations to the winner:
67-Tiffany Banks
An email has been sent to the winners.
Thank you to all who participated in the giveaway!