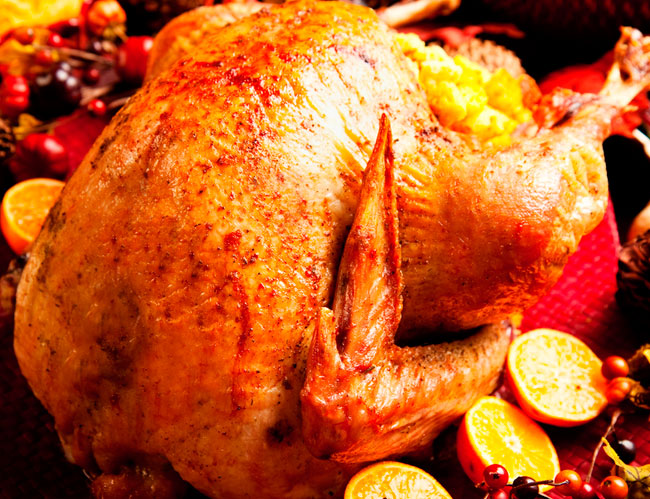 Thanksgiving time is here again. I love this time of year when the leaves on the trees begin turning beautiful red, yellow and orange. I also love this time because it is the beginning of the food and festivities. As we all know the most important thing about the Thanksgiving meal is the turkey of course. Whether you bake it, grill it, smoke it, or fry it, the turkey is the star attraction.
Every year around this time my husband gets all excited because he gets to cook this dinosaur of a bird. He comes home from the grocery store with a big Butterball turkey, unwraps it with ease and begins to thaw it out. His new favorite way to cook the turkey is to butterfly it. The cooking time is shortened incredibly and the meat is extremely juicy. Trust me, with two little ones around the house we need all the time we can get. Plus, I can't have him outdoors pretending he's a pitmaster for 8 hours behind a barbecue smoker. Even though he would probably disagree.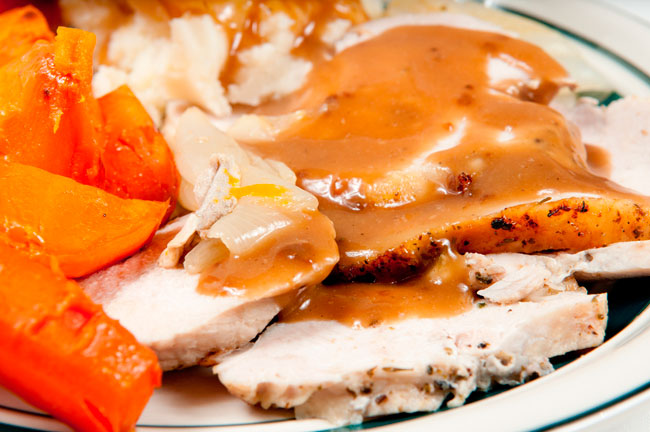 He cuts the backbone off the turkey then flips birdzilla over and presses down on the turkey breasts  to flatten it. He will usually seasons both sides the night before he cooks it.  He throws the backbone in a large pot with vegetables, herbs and spices for a delicious turkey broth. The next day he places the turkey on a large roasting pan on top of a bed of carrots, celery, onions, garlic and lemons and cooks it for around two hours at 375 degrees. This year he says he plans to cover the turkey with some applewood smoked bacon. I can't wait to try it.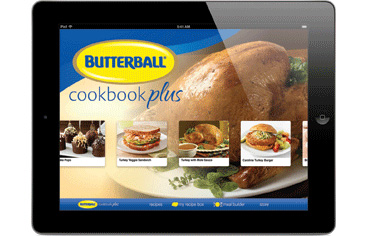 I would also like to introduce to you all the Butterball Cookbook Plus – Recipes for Thanksgiving & Every Day Occasions ipad/iphoneapp. This is amazing cooking app to get turkey tips, recipes, how-to videos, Butterball promotions and more. It has kitchen tools, like timers, substitutions, measurement conversions, it will speak the directions to you on your command, and a shopping list. You can even add your own recipes.
Win: Two lucky readers will each win a $20 Butterball Turkey Gift Check (each valid for a whole Butterball turkey).
Mandatory Entry:
Tell me how you make your Turkey and/or share some of your favorite tips for making Thanksgiving better.
Extra Entries:(leave a separate comment for each)
Subscribe to my blog via RSS
Subscribe to my blog via email or Reader (You MUST confirm)
Follow me via Google Friend Connect
Follow me on Twitter and Facebook-2 entries
Follow Butterball on Twitter and Facebook– 2 entries
Follow me on Networked Blogs
Tweet giveaway, leave link to your tweet, include@ShowMeMama- Twice daily every 2hr
Add my button to your blog entry and let me know where it is.
Leave a comment on a non-giveaway post.
Blog about the giveaway with a link back to this post- 3 entries
Rules: Open to US
Include email address with first entry
Winner will be chosen by random
Giveaways ends November 14th at 11:59 P.M. CST
Winners will be emailed and must responds within 48 hours or another winner will be selected
Sincerely,

My opinions are my honest, and thoughtful views and were not influenced by any source. I was not compensated monetarily for this review and giveaway.  Thank you to Butterball/PR Agency for providing a complimentary sample for the review.
Congratulations to the winners:
68-danielle priser
49- Lara
An email has been sent to the winners.
Thank you to all who participated in the giveaway!