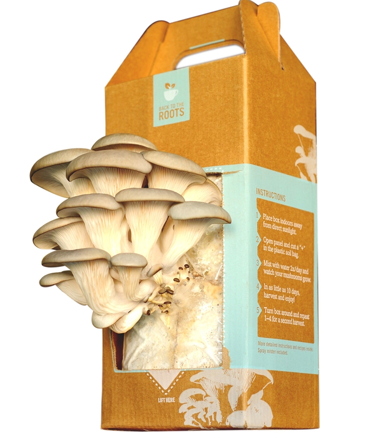 Ok, do you love mushrooms, and do you cook with them a lot? If your answer is yes,  then this amazing Grow at Home Mushroom Kit from  Back to the Roots  is just the thing for you. My family loves to grow anything from flowers, plants, vegetables and more. So, when we were offered to do a review on the Grow at Home Mushroom Kit, we couldn't wait to try it out.
You can easily get mushrooms in the supermarket, but nothing is better than growing your own right at home.  The Mushroom Kit comes with easy instructions so there is nothing to worry about. You will be able to grow up 1 1/2 lbs of delicious pearl oyster mushrooms per box,  with your first crop ready in as little as 10 days. Great right, you can even grow multiple crops.  All you will need to do is follow three simple steps:
Open the box and soak the bag for 24 hours, Mist and Harvest.  You will find a spray bottle in the box.  All is done in the comfort of your home.  Just place it on a kitchen window sill or any place you feel is best and mist twice daily and watch it grow. Sophia loves misting her mushrooms. The soil inside is 100% recycled coffee grounds – safe & sustainable with a 100% Satisfaction Guaranteed.
Now, visit Back to the Roots website and see their delicious Grow at Home Mushroom Kit which retails for $19.95.
I think this would also make a great class project and a fantastic holiday gift.
Happy Holidays
Sincerely,

My opinions are my honest, and thoughtful views and were not influenced by any source. I was not compensated monetarily for this review. Thank you to the PR Agency for providing a complimentary sample for the review.