The holidays are here and everyone is cooking or thinking what desserts or cakes they will be serving.  Well, no worries, I had the opportunity to try out some of Bauli oven baked cakes.  Bauli produces authentic Italian baked goods and holiday products.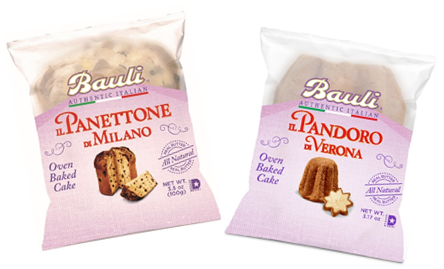 One of  their Holiday products are the Il Panettone di Milano. It is all natural and is made with simple ingredients such as butter, sugar, eggs, sweet raisins  and glazed oranged peels.  I personally love raisins so when I saw it had them, I was hooked.  They are baked in cylindrical mold, which look absolutely adorable in person.  When slicing a piece, it felt very light and basically melted in my mouth.  You can eat in various ways.  I added peanut butter and jam to it and it was absolutely delicious. They also have the Il Pandoro di Verona which is also all natural, and 100% free of chemicals. It is leavened for 40 hours using a "mother dough" that allows it to rise naturally, keeping it fresh for much longer than regular bread or cakes with absolutely no preservatives.  It is also light and I cut a piece spread some cream cheese and I ate the entire cake.  It is very addictive, so I can a lot more of these.

Want more information about Bauli products visit their site and enjoy some their wonderful holiday oven bake cakes and more.  You can connect with them via facebook, twitter, instagram and pinterest.
Happy Thanksgiving!
Sincerely,

My opinions are my honest, and thoughtful views and were not influenced by any source. I was not compensated monetarily for this review and giveaway.  Thank you to sponsor/PR Agency for providing a complimentary sample for the review.