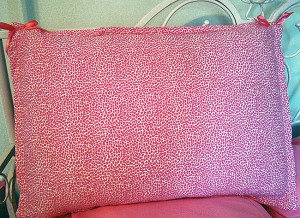 My daughter decided it was time to change her bedding set, and I thought why not do a DIY project again and let her decide what she wanted.  First of all, she loves pink, so I had an idea on what to work with. We went to a fabric store and buy some fabric she wanted. Now that we had everything we were ready to start our easy Pillow Sham Tutorial.
Material Supplies:
Ribbon (1/8)
Fabric (cotton duck-2 yards or less, but I always like to buy more just incase)
Thread (white or matching to fabric)
Scissors
Standard Pillows ( I know you have that in your house already)
Let's cut out the following pieces that you will need for your Easy Pillow Shams:
You will need to cut out Two rectangles – 29 inches  x 22 inches
You will need to cut out Four rectangles – 22 inches x 20 inches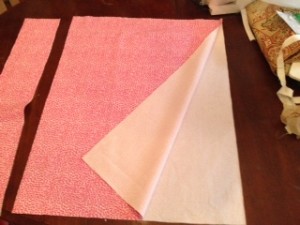 Before I start to sew, I like to be prepared and see everything in an organized manner.  Start out by arranging the four pieces in sets of 2.  We will be hemming the sides of both pieces.  Go ahead and fold half an inch and iron another half an inch. You will do this on both sides (left and right side of the rectangle pieces).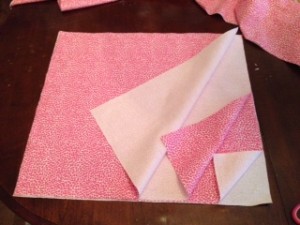 Now, take the larger rectangle piece and turn in right side up. Then take your 2 rectangle pieces that you just sewed, and place that on top of the larger rectangle piece.  Make sure that the small pieces will overlap one another (that will be the opening to insert the pillow in).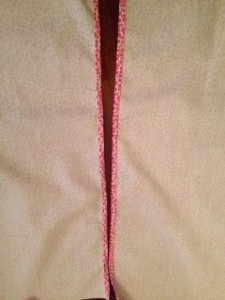 Go ahead and pin all around the edges and sew around the complete  case. When you are done, turn the case inside out.  At this point you can iron your sham.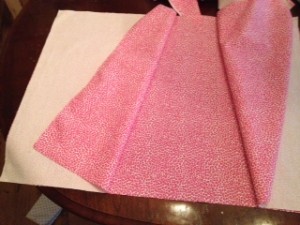 Then, turn the entire case right side out. Poke the corners out with the tips of scissors or a knitting needle. Iron the seam all the way around. Now you will sew all around the case again, but now on the right side.  You will measure 1 inch around the sham to give you a beautiful sham border.  Pin it and sew all around.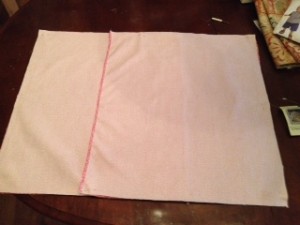 To give it it that little extra little decor, I added some cute little ribbons on top of the sham (both right and left side of the sham).  I also added on to the back of the sham 4 pieces of 6 inch  ribbon (where the opening of is to insert the pillow). Tie two nice bows in the back of the sham and it will keep the pillow nice and tidy in the sham.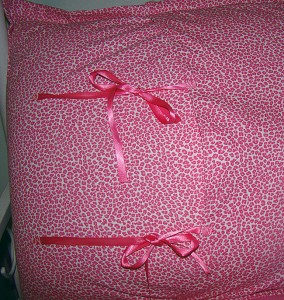 There you have it.  Now you can make your own adorable shams.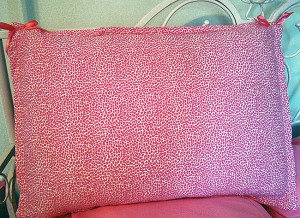 Happy sewing.